Central Florida's Melbourne Commercial Real Estate

Office Space FL News in Central Florida's Melbourne area
Fastest Growing U.S. Cruise Port
For a few hours today, area port officials were thrilled to think Port Canaveral had surpassed PortMiami with the most number of cruise passengers of all ports in the world for the past fiscal year.

The South Florida Business Journal reported that PortMiami's passenger count dropped 6.5 percent to 3,758,066 from the previous year's 4,018,000. But Bill Johnson, director at PortMiami, confirmed to FLORIDA TODAY that the final audit showed PortMiami finished fiscal year 2012 still as the busiest cruise port with 3,774,000 passengers.

That was about 16,000 more passengers than Port Canaveral, which had its own record-setting year with 3,761,056 million. It was a 21 percent increase over the previous record at Port Canaveral set in 2011 at 3,100,199 passengers. The fiscal year ends Sept. 30.

"All three ports are doing well," said Johnson, also chairman of the Florida Ports Council, noting how the success of Port Canaveral PortMiami and Port Everglades is good for the local and state economy.

"It's is a good story," he said. "What matters to me is that all our ports are growing … all our ports are moving forward and growing because the economy for the whole state is growing."

During the past two years, multiday cruise passengers at Port Canaveral increased by 38 percent. During the same period, port-of-call ship visits increased from 86 to 123. The 2011 Cruise Line Industry Association Economic Impact Study determined Port Canaveral to be the fastest-growing cruise port in Florida. The largest fleet of year-round ships currently sails from here.

"Our business strategies and board decisions have put Port Canaveral in a position of strength to continue to expand our operations and improve our infrastructure in 2013," Deardoff said earlier this month. "As we attract more cruise and cargo business and develop Port Canaveral into a destination, our community reaps the benefits of the increased jobs and business opportunities."

Total revenues at Port Canaveral -- which this year will host the international American Association of Port Authorities Conference -- were more than $68 million, up 17 percent over the previous record in 2011. Revenue associated with multiday passengers is up 47 percent to $50,590,907 from $34,473,349 in fiscal year 2010.



Brevard County, Fla. (November 2, 2012) – The Economic Development Commission of Florida's Space Coast (EDC) is pleased to announce that Nuance Communications, a Burlington, Mass.-based technology company specializing in voice and language solutions, will expand its operations in Melbourne.
In the initiative originally known as Project Speak, Nuance plans to create 115 new jobs at its present location at 3984 Pepsi Cola Drive in Melbourne. The company will also make additional capital investments in its facility to support the expansion. At full employment, Nuance Communications' total projected economic impact will rise by 66 percent to nearly $24.4 million.
"Melbourne provides Nuance with a strong foundation to expand our business," said Pat Cinalli, vice president at Nuance's Brevard facility. "We are pleased to be able to leverage an extensive, talented work force in the region and to continue our long, successful history in Melbourne."
The EDC worked closely with the company to demonstrate the competitive advantages of a Brevard County expansion and identified ways in which the company could reduce costs. The EDC also assisted Nuance Communications in obtaining state and local incentives that were required to improve the operating cost structure to move the expansion forward in Melbourne.
"For companies like Nuance Communications that have footprints in many states and countries, corporate expansions are highly competitive projects. We are delighted that Nuance Communications has chosen to expand on the Space Coast, a location that uniquely blends a highly skilled workforce and a competitive cost structure. We look forward to the company's continued growth and success on the Space Coast," said Lynda Weatherman, president and CEO of the Economic Development Commission of Florida's Space Coast.
The company considered sites in at least two other locations before ultimately choosing the Space Coast. The EDC and its project partners at the City of Melbourne, Brevard County, Brevard Workforce and Enterprise Florida, worked collaboratively to successfully bring this expansion to Brevard County.
"Nuance Communications has been a natural fit for Florida's business community as well as Brevard County's, making a positive economic impact through the delivery of its products and services," said Gray Swoope, president and CEO of Enterprise Florida Inc., the state's principal economic development organization. "The company's choice to expand in Melbourne, adding more jobs, demonstrates Florida's success in retaining progressive organizations that help to keep the state competitive."
Nuance Communications expects to complete its expansion by the fourth quarter of 2013.
Expected To Announce It Will Build Engines, Maybe Space Craft In Central Florida
While there has not yet been an official announcement, word around the aerospace community is that Mojave, CA-based XCOR will be establishing a presence on the east-central coast of Florida, building engines and maybe spacecraft at a facility at the Kennedy Space Center.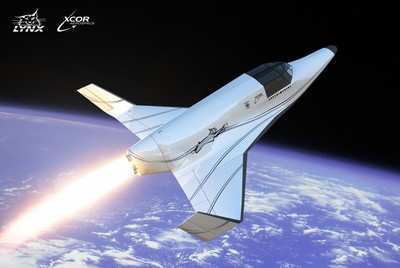 The official announcement will be made at the Astronaut Encounter Theater at the space center's visitor's complex next week. Florida Today reports that the information about the Florida business venture was included in an invitation to the August 23rd event at 1000 EDT. XCOR would not confirm any details beyond what was included in the invitation.
The deal is the result of a lot of work with Space Florida and the Economic Development Commission of Florida's Space Coast, which has been reeling since the end of the shuttle program. KSC had recently issued a request for commercial proposals for use of the former Shuttle Landing Facility ... a 15,000 foot runway and other infrastructure ... which would obviously be attractive for the Lynx spacecraft being developed by XCOR.
The county is reportedly offering a local match for nearly $1 million in state grants under a special tax program for targeted industries. Space Florida has agreed to pay up to $3 million as the company reaches certain milestones.
An XCOR representative reportedly told the Brevard County, FL, commission that it hopes to be open at KSC by October, 2014. Their business plan calls for hiring over 150 people at an average salary of just under $61,000.
Rocket Crafters Inc.
, the Utah aerospace company that announced today it plans to relocate to
Titusville
, could be up and running in its temporary facility near
Space Coast Regional Airport
by the fourth quarter of this year.
At a ceremony this afternoon at the airport, excited Titusville officials welcomed the company – once known only as Project Speed -- to town, a major dose of good news in an area still feeling the effect of last year's shuttle program shutdown.
"By this action, the City of Titusville, Gateway to Nature and Space, is setting its sights on a new commercial gateway to space," said the city's mayor, James Tulley. "Our destiny is clear and our future is bright."
Titusville City Manager Mark Ryan added, "The city needs this."
Rocket Crafters holds licenses for advanced hybrid rocket and aerospace composite technologies as well as proprietary hybrid rocket design and analysis software. It hopes to develop and commercialize a new hybrid rocket propulsion technology and leverage an ultra-lightweight, advanced composite material to manufacture dual-propulsion – jet and rocket -- suborbital space planes.
Ultimately, if the technology is successful and the market is willing, Rocket Crafters plans to be a major player in a new form of air travel. Imagine cargo and passengers being able to travel from Melbourne, Fla., to Heathrow Airport outside London – a trip that takes nine hours in a traditional jetliner -- in 90 minutes.
With the company's decision to come to North Brevard, workers who once helped make space travel possible could be involved in this evolution of transportation.
"We believe that the availability of skilled manpower and a community with a can-do heritage for going to space will be key in our creation of up to 1,300 full-time jobs, and to our business model for providing rocket propulsion and suborbital space craft to the emerging suborbital space transport market," said Rocket Crafters CEO Paul Larsen.




The future health of the space industry is in innovation.



As a nation, we've developed amazing space-based capabilities. We can get turn-by-turn driving directions from a GPS-enabled smartphone. We can get television and radio signals to far-flung places where ground-based infrastructure doesn't make sense. Our military can send words, pictures and video around the world via satellites.

And so on.

The growth of space as a business relies heavily on our ability as a nation to harness what we've developed, primarily for military and intelligence uses first, into tools that can be applied commercially to solve problems, provide services and, yes, generate profits.

As innovators come up with ideas for transforming technology once used for, say, spy satellites or military communications spacecraft, the industry will grow. The more potential applications, the more potential business to be done. And, more jobs.

It is a long-term development cycle, and we've seen the benefits from the first half century or so of space development spin off. The next decade promises to bring as much, perhaps, as we've seen in the previous five.

Case in point: the space development teams at Harris Corp. This week, they cut a very lucrative deal with private and public partners that takes a technology first developed for the government and transforms it into a tool with potential to change an industry.

This new business venture between Harris and Iridium is expected to improve the safety and efficiency of airline travel by giving air traffic controllers a global tracking ability. The current radar tracking system covers less than 10 percent of the globe, according to Iridium. The new space-based system will cover every part of the globe, improve tracking, cut costs for ground-based infrastructure, and provide a platform for development of add-on features that could help the industry and customers.

"It's something that will transform air traffic," said Bill Gattle, vice president of Harris Space Communication Systems, whose team leads space development for the company in southern Brevard County.

Billionaire group unveils plan to mine asteroids for water, precious metals
CAPE CANAVERAL – U.S. commercial space entrepreneurs backed by wealthy billionaire investors are starting up an asteroid mining company that could fuel Earth's economic engines and pave the way to solar system expeditions.
Principals today will unveil plans for Planetary Resources Inc., a company founded by commercial space visionaries Peter Diamandis and Eric Anderson and backed by Google co-founder and CEO Larry Page and Google chairman Eric Schmidt.
Ross Perot Jr., the son of the presidential candidate and computer magnate H. Ross Perot, also is in on the venture along with famous filmmaker James Cameron and Charles Simonyi, former Chief Microsoft Chief Software Architect Charles Simonyi.
Planetary Resources Co-Chairman Peter Diamandis, a space visionary who led the highly successful Ansari X-Prize competition, told FLORIDA TODAY on Monday that the "investor pool includes some of the wealthiest people on the planet."
The company first plans to launch flotillas of small satellites from Cape Canaveral that would identify asteroid targets. They also would provide Earth imagery to customers, Diamandis said.
By 2020, low-cost spacecraft would be sent to extract water and precious metals from selected asteroid targets, he said. The water would be a commodity for propellant depots in low Earth orbit. There is a global market for precious metals.
Diamandis is the visionary who co-founder the International Space University as well as the Ansari X-Prize. His partner, Eric Anderson, heads Space Adventures, the company that books space tourist visits to the International Space Station.
Diamandi and Anderson will unveil Planetary Resources plans at a 1:30 p.m. EDT news briefing at the Seattle Museum of Flight.


Port Canaveral Soars to Record Year

PORT CANAVERAL, FL - October 28, 2011 - For the first time in its history, more than 3 million multi-day cruise passengers sailed from Port Canaveral, contributing $40 million in cruise revenue during the fiscal year ending September 30, also a record as newer and larger cruise ships and 66 additional ship calls helped boost passenger totals. Cruise traffic rose 16.08 per percent with 3,100,199 passengers.
Overall, Port Canaveral's total revenues surged dramatically to nearly $57.8 million, eclipsing the previous Port record of $51.2 in 2006 by 13 percent.
"We emerged from dismal economic times financially strong and focused on the future, fully accepting our role and responsibility as one of the primary economic engines for the Space Coast," said J. Stanley "Stan" Payne, CEO, Port Canaveral. "With a pipeline full of infrastructure projects, a strong balance sheet, a business strategy focusing on our strengths, we want this to be just the first in a string of record years."
Focusing on cruise, Payne continued, "We began this year welcoming the new Disney Dream and we'll end this year with Carnival's expanded presence and the addition of the Carnival Ecstasy in November. The momentum will continue into 2012 with new ship arrivals and the opening of new Port facilities."
"As one of Brevard and Central Florida's crucial economic engines, the success of the Port represents success for the community with business opportunities reaching beyond our cruise and cargo operations," says Joe Matheny, Chairman of the Canaveral Port Authority.

Story provided by Port Canaveral Authority: http://www.portcanaveral.com/general/news/releases/11012011.php
-------------------------------------------------------------------------------------
1:47 PM, Jan. 14, 2012 |
SpaceX delay?
An update is expected early next week on the timing of SpaceX's launch of a Dragon capsule on a demonstration flight to the International Space Station. The launch from Cape Canaveral had been targeted for Feb. 7.
NASA is entertaining a major change in the way Kennedy Space Center is run as the agency transitions from the shuttle era to one more dependent on commercial spaceflight.
Kennedy could one day operate more like an airport, with NASA and private space companies each paying for facilities and services governed by an independent authority.
The idea was one of several discussed during workshops NASA and state officials hosted last fall to imagine the center's post-shuttle future.
Those workshops have informed early work to revise the center's master plan, which will be presented to NASA headquarters next week.
"Some of those concepts would be a significant departure from the way we've always done business in the past, so we've really got to understand that," said J. Edelmann, manager of KSC's spaceport planning office.
For now, the proposed new governing structure remains a concept .
But state officials assisting KSC's planning effort say the potential for an airport-like authority is real, and they'll help study the options.
"I think that's a real likely concept, that they'll eventually create a governance authority with a board that would oversee the activities — a true spaceport, where you have a private-public partnership," said Tom Beck, head of the Department of Economic Opportunity's Division of Community Development.
Kennedy's master plan will provide a road map as the spaceport seeks to transform into a "21st Century launch complex" more attractive to commercial space operations, after 30 years of domination by a single governmentprogram.
With the state also working on a master plan and sharing a stake in KSC's success, the two parties agreed to collaborate.
Beck's office and the state Department of Transportation contributed $200,000 last year for a consultant, AECOM, to interview more than 30 KSC stakeholders, lead the workshops and produce a report on the center's "post-shuttle mission."
The October report included input from senior personnel at NASA, Cape Canaveral Air Force Station and commercial firms with a current or potential local presence, plus representatives from local
communities
.
----------------------------
Craig Technologies named prime contractor for Army training products
Craig Technologies was selected as prime contractor for the U.S. Army's Training and Doctrine Command's Combined Arms Products for Distributed Learning program contract.
Under terms of the contract, which began Dec. 13, Craig Technologies provides the Army Training Support Center with a range of "Analysis, design, development, implementation and evaluation test and evaluation support," the company said in a release.
The contract has a base year with four additional option years.
"This win highlights our strengths in delivering solid training tools that meet an immediate need for our military in the field," CEO Carol Craig said.
Craig Technologies, based in Melbourne, has 285 employees, including 84 in Brevard County. It has annual revenues of almost $30 million.
----------------------------

Harris to build $100M Palm Bay facility

Orlando Business Journal

Date: November 2011

Related:
Technology, Commercial Real Estate, Construction, Brevard County
View photo gallery



Harris gets $25M contract from Air Force
Harris to supply software to 8 TV stations
Harris gets 4-year Army contract
Daytona center testing new FAA system
Harris Corp. ships new handheld radios
Harris Corp. (NYSE: HRS) will spend $100 million to build a new high-tech center in Palm Bay. Design is complete, and construction is due to begin in the middle of next year and be finished in 2014. The project will create 300 construction jobs and 100 new permanent jobs.

The 450,000-square-foot building will have six floors and accommodate 1,200-1,400 people working on the company's advanced engineering efforts.

Harris Corp. is based in Melbourne and is a communications and information technology company serving government and commercial markets in more than 150 countries. It has annual revenue of $6 billion and more than 16,000 employees.
--------------------------------

Embraer names Melbourne Orlando International Airport U.S. Headquarters

In 2008, Embraer broke ground on a new facility at the Melbourne International Airport in Melbourne, FL that will be dedicated mainly to assembly the Phenom 100 and Phenom 300 besides, support the expansion of the Company's executive jet business. The opening of the new Melbourne facility is part of Embraer's broader strategy of bringing operations closer to customers and to its largest market, as the Company's first industrial site in the U.S.

The 150,000 square-foot Melbourne plant will start operations with the production of the Phenom 100 executive jet, and will also include a state-of-the-art aircraft paint shop, as well as a first-of-its-kind customer sales and design center for Embraer's full portfolio of executive jets. Customers will be able to design their executive jet's interior with the use of high-end 3D visualization technology, supported by a showroom with a vast collection of interior finishing materials.